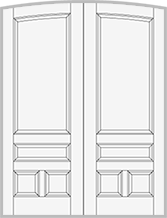 Fiberglass Entry Doors
Fiberglass is considered one of the best materials on the market for coastal environments. Just think about it for a second: boats are largely made of Fiberglass Hull's that keep them afloat while standing up the pounding of the ocean and resisting the harsh salt environment of the ocean spray. Fiberglass at its simplest form, is glass fibers and resin mixed together.
Fiberglass is resistant to swelling, rotting and warping. It's expansion rate is roughly equal to that of insulated glass, helping improve the overall strength of the unit and lessening some of the more common stress crack issues that can occur.
Window Classics carries Therma-Tru Doors. One of the nation's leading manufacturer of fiberglass entry door systems. They have been manufacturing their Fiber-Classic system as the most preferred brand of entry doors by builders and remodelers nationwide.
Entry Doors
Therma-Tru Doors