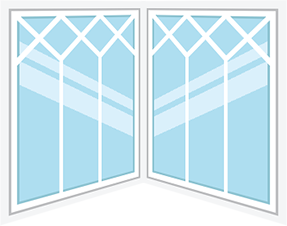 Specialty
There are various specialty window units that are available for those looking for truly custom one of a kind pieces for their home. Geometric Shapes have become increasingly popular as their angular designs within the direct set platform allow for large glass sizes in unique configurations.
Corner units are also unique and can be done both with a post for impact applications and without a post where just glass butted up against another piece of glass is required in non-impact settings. This adds a level of detail to the home that will set it apart from the rest.
For those looking for a more traditional or historical option, tilt turn and hopper units are available. Giving customers the dual ability to open the window completely like a casement or simply lean it out for venting purposes, it has many classic applications that add a level of architectural detail to a home.