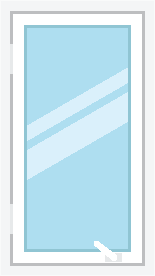 Casement
Casement windows are extremely popular in the Florida marketplace because of the large expanses of glass that can be offered while still allowing for the ability to open the window and let the Florida breeze enter the home.
Casement windows operate very much like doors. They are hinged on one side and crank open so that the entire opening will be cleared. Limiter devices can be added for situations where venting is desired for outdoor breeze but full travel of the window sash is not required.
Fixed casement configurations are also available should you desire to place a stationary window unit next to an operable window unit while still allowing the profiles and sight lines to match creating an architecturally correct detail to really set your home apart from all the rest.