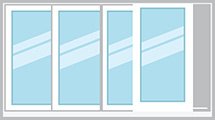 Lift & Slide Doors
Lift and Slide door systems are similar to Multi-Slide systems in that many large panels can be stacked to create one large opening into the home. The difference between the two, however, is notable. Lift and Slide systems utilize a European hardware set that helps eliminate the roller track.
Rather than a grooved track on the floor, Lift and Slide systems, such as Panda's S14, are flush with the floor. This allows your tile, stone, or hardwood to flow seamlessly from interior to exterior, having the track laid within the flooring itself. It's a luxury design element that will set your feature door apart from the rest.
The Lift and Slide door gets its name from its operating features. Rotating the lift and slide handle move the panels up or down into the locked or unlocked positions. When the panels are lifted, the clearance allows them to be pushed, just like you would with any other sliding door. When the panels are down, the bottom weather-strip compresses directly with your flooring; the entire weight of the multiple hundred pound panel creates a watertight seal that is ideal for storm protection.
Wood/Clad
Marvin
Panda
EuroWall