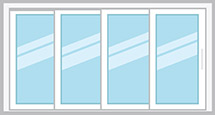 Multi-Slide Doors
Traditional two panel patio sliding doors are largely contained to bedrooms in today's Florida marketplace. The desire for indoor/outdoor living and large areas for entertaining guests has lead to a large demand for Multi Panel Sliding Doors or Multi-Slides.
Multi-Slides can achieve very large openings and depending on the sizing and design intent can be made to pocket into the walls completely concealing the panels when the doors are fully open. Ninety degree corner units are also available allowing for entire corners of your home to disappear when the doors are open.
For those that worry about the weight of having to push numerous door panels open at time, we also offer automation for our Multi-Slide doors which allows the doors to open seamlessly all with the press of a button on your wall mounted keypad or from your tablet and mobile device.
Imagine having a 50 foot wide expanse with heights up to 12 feet disappearing at the click of a button so that you and your guests can enjoy a night of the Florida outdoors without having to leave the comfort of your home. That is what Multi-Slides were build for.
Wood/Clad
Marvin
Panda
EuroWall
Aluminum
CGI
PGT
WinDoor
Panda
EuroWall